For many, window treatments are an afterthought. They're either thrown on as the last piece of a cohesive design or forgotten entirely under the assumption that they're superfluous. However, we'd argue that might be a mistake. They are the design element that truly pulls a room together. They're often the one piece that separates professionally designed rooms from the rest.
Whether you've never given window treatments much thought or just aren't sure how to incorporate them the right way, read this post before you undertake your next design. We've compiled your ultimate guide to window treatments to help you tackle the process from start to finish. Use our tips as guidelines to help you give your interiors that extra, professional touch.
Think about function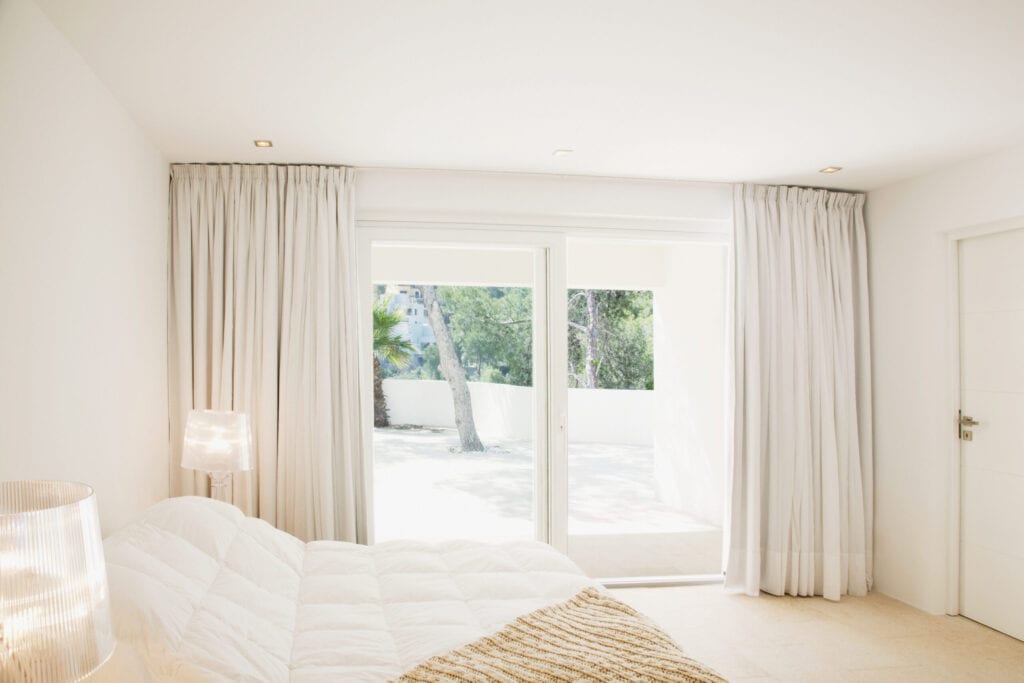 Just as you would with many other design elements, the first question you should ask yourself is, "What do I want them to do?" The answer you settle on may help you narrow your options and land on the window treatments that are the right fit for you.
For many, the answer is to add aesthetic value. Before defaulting to that response, consider whether your window treatments need to provide another service. For example, a pair of blackout curtains make nap time easier in a nursery and sometimes HOAs have requirements for front-facing windows. In addition window coverings are a great way to increase privacy for your home.
Know your window treatment options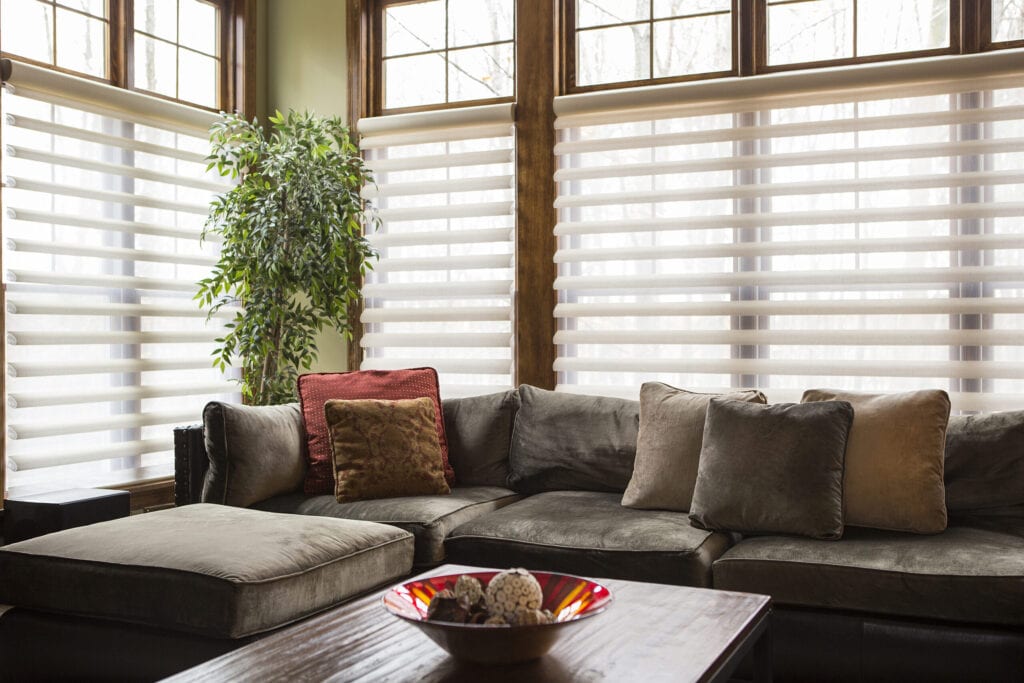 Anyone who has ever set foot in a home improvement store can tell you there are thousands of window treatment options to choose from. For many, that level of choice is overwhelming. Following window treatment trends can help make the decision easier. However, most can be filed under a few basic types.
Blinds: Generally the most affordable choice, blinds are made of either plastic or wood that's been arranged into slats. There is usually little variation in style. Blinds can be mounted inside the window frame to create a clean look or outside to make a small window seem larger.
Shades: Shades are made of fabric and come in varying levels of opacity. They are slightly more expensive than blinds and come in three main types:

Roller: Unroll from a tube-shaped piece at the top of the window
Roman: Arranged in careful, elegant folds
Honeycomb: Fold down from the top of the window in pleats.

Drapes: Attached to a rod above the window and hanging down beyond the frame, drapes offer the most variation in price because they come in a variety of materials, colors and patterns. They also come in both stock and custom-made sizes.
Shutters: The most expensive item on this list, shutters are true woodwork. While there are a few stock sizes and finishes available, it's recommended you have them custom fit to the window for the best appearance.
Take measurements into account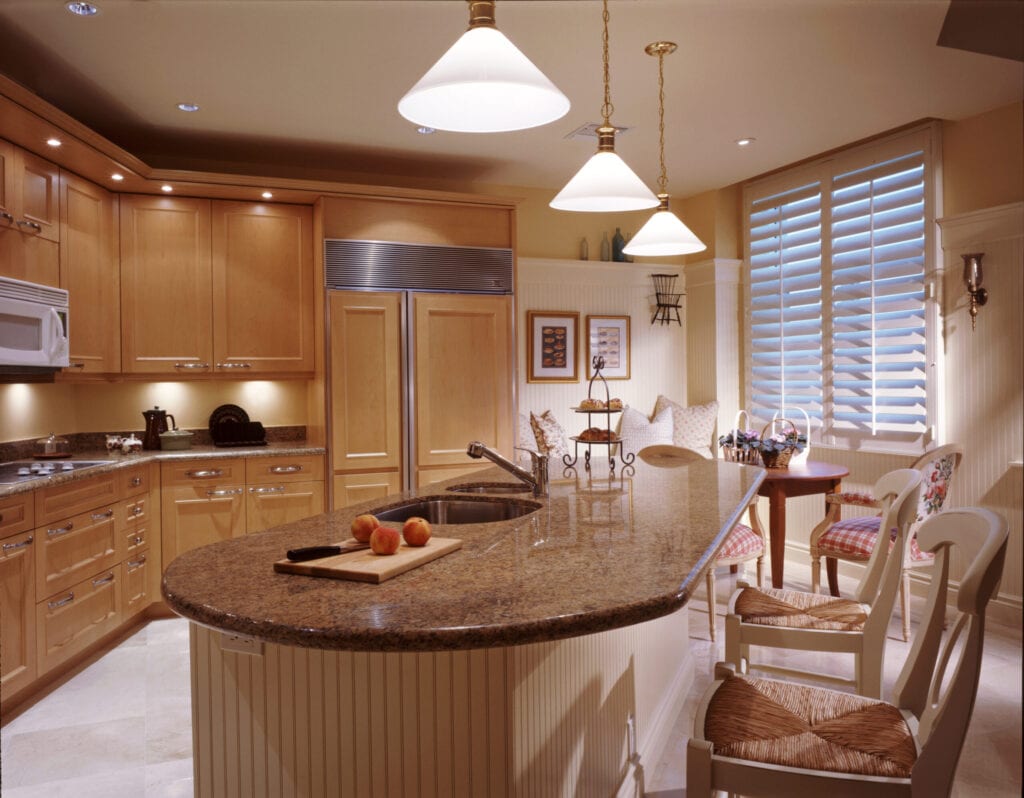 Once you have your ideal type of window covering in mind, the next step is to take measurements. If you're looking to add privacy to your home this way, make sure the size is accurate. Be sure to write them down and take them to the store with you, so you have a firm idea of the options available once you get there.
Here's what you'll need:
For blinds: For inside-mounted blinds, take widths at the top, middle and bottom of the window, inside the frame. Use the narrowest width. Then, take length measurements from the left, middle and right sides, inside the frame. Use the longest length. If you'd prefer outside-mounted blinds, measure the width to the end of the window frame and add 1 ½ inches to each side to account for overlap. Measure the length to the end of the window sill and add 1 ½ inches.
For shades: Follow the same process described for blinds.
For drapes: To determine the length of your curtain rod, measure the width of your window and add 3-8 inches to either side, depending on how full you'd like your curtains to be. Then, measure the length by starting at the point where the rod will hang and measuring to 1 inch above the floor.
For shutters: Follow the same process as described for blinds. Add ⅙-inch on each side to the narrowest width and ⅛-inch to the longest width.
Keep in mind that many windows aren't standard sizes. Drapes can be tailored — either professionally or via tutorial — but, for the other types of treatments, you may need to decide between investing in a custom-made product or choosing the closest fit.
Don't forget aesthetics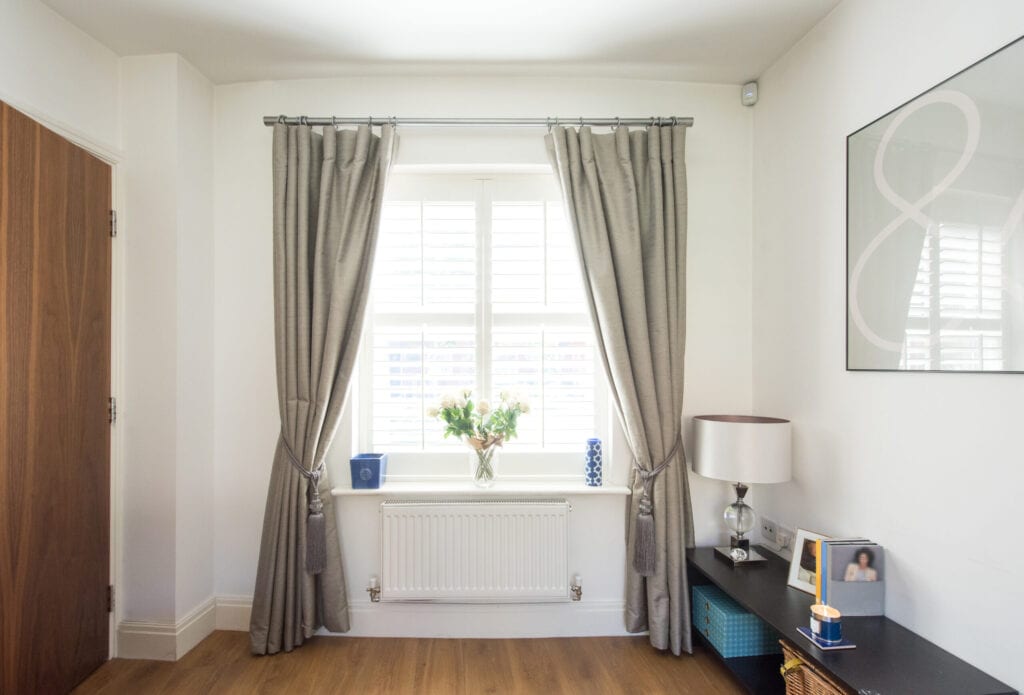 After you have measurements in hand, you'll be able to see which aesthetic options are available to you in the store. While style is always a personal preference, here are a few guidelines to keep in mind:
For blinds: Opt for a clean white, or if your room's dominant color is a neutral shade, try to match it.
For shades: If you're looking for solid shades, either choose a neutral color or match the room's dominant color. If you're using patterned shades, try to match one of the colors in the print to your accent color.
For drapes: To help the window blend in, choose a neutral shade or one that's close to the room's dominant color. To highlight a window feature — like a bay window or particularly eye-catching view — choose a contrasting shade.
For shutters: Do your best to match any woodwork on the inside of the room.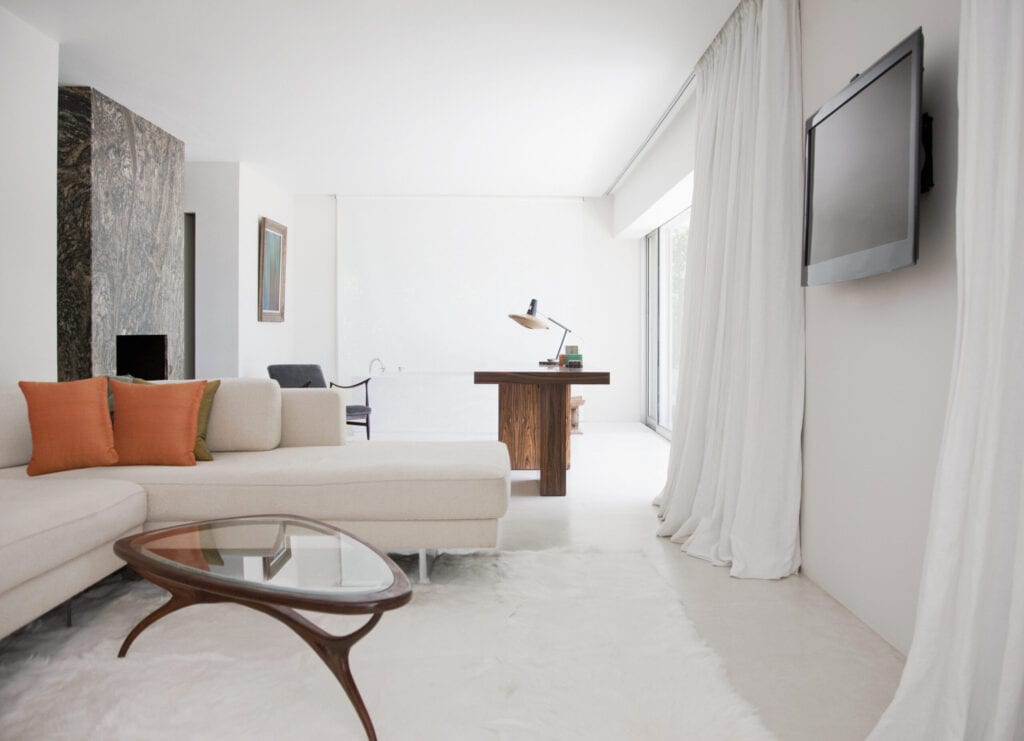 Many homeowners consider window coverings after they've designed everything else in the room. We're here to argue that shouldn't be the case. Whether you've never given them much thought or haven't had the best results in the past, this post is for you. Use the tips in our ultimate guide to window treatments to help take your interiors to the next level and be sure to check out what window treatment trend is best for you.
What are your opinions on window coverings? Do you have any tips to add? Tell us in the comments.