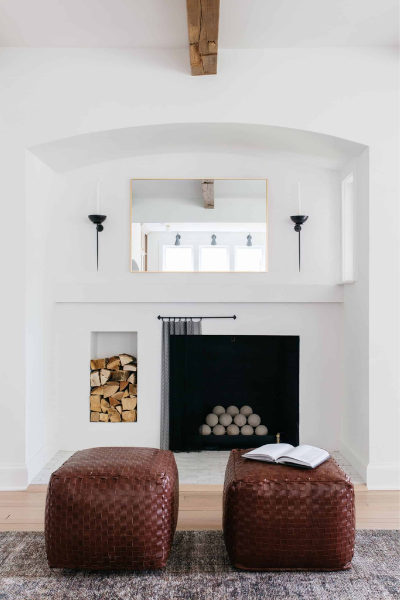 Talk about a transformation. It now feels like it belongs and is completely brought back into the 21st century.
We went through a few iterations of plans on how to tackle this fireplace. The whole thing really liked to throw us curveballs as soon as we thought we had a good plan in place. Even though this had some funky characteristics to it, I really did want to keep as much of the character as possible. We tried (so hard, actually) to keep the brick and just paint it. We even carefully took off brick from the exterior to use to fill in the niches.
When we first looked at the brick, we thought it was just that brown color. Come to find out that brick and grout were actually painted over. The paint was beginning to chip, and to get it all off, we would have had to use a metal brush that would have scraped up the brick. I then decided to just drywall the entire thing and then get it plastered to add back some character.
The Plaster Finish:
We had a plaster professional come and quote us, and holy crap, did we quickly realize that was not an option? I started to research some plaster alternatives and found a company based in California called Portola Paints. They have a "paint" that is thicker and totally looks like plaster at a fraction of the cost. Our painter applied most of it, but I came in and helped towards the end and can confirm that it's so easy to use (you could definitely do it yourself – watch their tutorial videos, though! super helpful). I got the sample book to pick out my color, but I went with "Elizabeth 1" for the color.
The Mantle:
I actually had the same beams ordered to size for the mantle, but that was quickly squashed due to codes. Apparently, you can't have wood that close to the fireplace. I thought it would be too boring just having it all plaster, but now I really love it.
The Fireplace Balls:
This quickly became a joke at the construction site. "Sophie needs her balls," hahaha. I do love these fireplace balls ;). This is a gas fireplace, so you can just turn a knob, and the fire comes up through the balls just like they would with wood. Here's the grate I bought, and here are the fireplace balls. Take a shot every time I said "balls" in this paragraph. hah!
TV:
We did have the electrician wire a plug behind the mirror for a TV to go eventually. Just for styling purposes, I went with this cute mirror ;).
Tile:
I loooveeee this tile. If you follow me on Instagram stories, you know how much I talk about this dang tile. It's handmade tile from Morocco and really takes this space to the next level. I was going to use this tile in the kitchen, too but decided it was too busy, so I plan on seeing this in Ben and my first home. Not complaining about that one :).