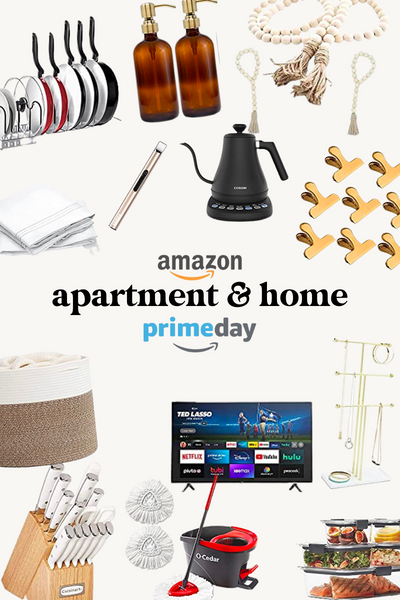 This post is all about the best Amazon Prime Day apartment and home deals. Sale starts July 12th!
Amazon Prime Day is a HUGE sale where they put over 100,000 products on sale for two days.
I'm an Amazon Prime member and bought so much dang stuff for my apartment it's actually crazy. Now that I moved in, I have my eyes on some things that I can't wait to see go on sale.
This year, Amazon Prime Day is on July 12-13th starting at 12:00am central time. Get ready to buy, things sell out FAST.
Don't worry, if you're not an Amazon Prime member you can get a FREE six-month student trial or a FREE 30-day trial for everyone else. It's the best!!
As a blogger, Amazon lets me see all the deals early so I will be able to gather the best deals so you can make sure to get them before they sell out.
To prepare for Prime Day, make sure you are an Amazon Prime Member.
I went through and am finding everything from first apartment essentials, best home decor, kitchen appliances, rugs, couches, mattresses, cute beddings…basically, anything that is a really good deal for an apartment and home (and is cute) I am including in here. IT IS GOOD!
To sign up for a free amazon prime account…
NOTE: I will be updating this list constantly throughout the 12th and 13th crossing off all items that sell out. These deals do not go on sale until the time listed!!! Get ready to buy, things sell out FAST!