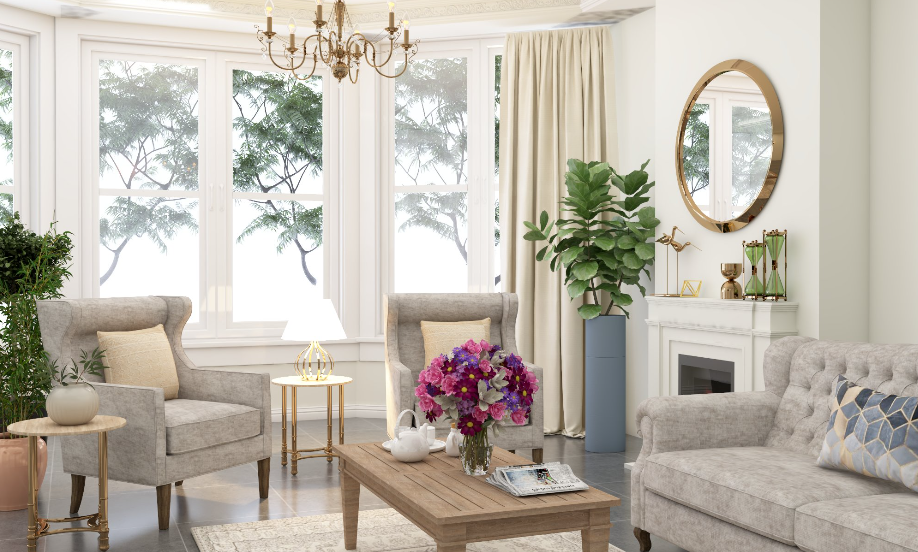 To strike a balance between traditional design and transitional design, interior designers typically consider these 4 aspects –
Single Focal Point: Transitional design is similar to modern design in that it also follows a minimalist approach keeping in mind the space's focal points. Use a single focal point to style the room – for example, a coffee table or a chandelier. This allows you to maintain an elegant and intimate vibe in the room.
Neutral Palette: Designers typically rely on a neutral colour palette – this includes shades of taupe, beige, tan, and white. These are used to create a foundation for the transitional look. For the second layer, darker colours and shades, such as dark browns and greens, are used to add an element of depth to transitional spaces.
Combining Old & New: Homes styled in a transitional way are spaces where one can find a beautiful balance of old and new home decor and materials. For example, in transitional homes, you can find vintage or antique wooden furniture accompanied by modern glass or metal furnishings and home decor.
Accent patterns and colours: To keep up with the modern vibe, it's important to carefully choose accent colours and patterns.
Designers typically do this with the upholstery in a neutrally painted room. Some common fabrics and textiles used to create transitional designs are corduroy, suede and chenille.
Read also – Traditional Architecture vs Modern Architecture
It is a mix of the traditional style and

contemporary interior design

style. The transitional style is also referred to as 'Classic With A Contemporary Twist', 'Updated Classic' Or 'New Take On Old Classics'.
The transitional home is all about simple architecture. It has clean lines, layouts that are symmetrical, and distinct focal points.
The transitional style includes metallic accents and a plethora of cushions and throw pillows. Also, rich rugs add texture to the rooms.
Contemporary art plays a huge role in a transitional home. A traditional statement piece usually adorns the living room. Also, tried and trusted wooden artifacts add to the décor of the house.
Natural elements have a special place in this home design style. Neutral color schemes are accentuated with rich wooden colors.
Wood, stone, marble, and granite play a role too. Most houses using a transitional design will have a wooden built-in cabinet and wood paneling as a wall or ceiling feature.
The flooring is made of light hardwood with tiles and rugs used to add coziness to the house.
The transitional interior design is minimalist in approach. It has accessories and ornamentation within limits while keeping the finishing elegant.
Timeless, warm, and elegant are a few words that can describe transitional spaces.
Furnishings used are a mix of antiques and contemporary elements too.
Read also – 20 Most Popular Types of House Styles
Transitional spaces follow colors from the traditional style of interior design – white, grey, and sand. These are neutral colors and are necessary to highlight the traditional side of transitional interiors. While transitional homes are unisex by design, people seeking to add a hint of masculinity opt for a dark and bold color palette including colors like charcoal, black, and midnight blue.
The beauty of the transitional design is that it allows you to choose colors based on the mood or vibe that you want to create. Some people opt for a subtle take on the traditional decorating style. On the other hand, others create a layered mood by going for four/five tones of the same shade or darker hues for a dramatic feel.
Typically, a transitional home uses a neutral color palette. This has shades of tan, beige, taupe, ivory, and grey. These colors work as good backdrops for both contemporary furniture and traditional furniture pieces. Also, dark brown is used at times to add depth to a balance of tan, taupe, and vanilla. Designers use tones and textures for contrast.
Read also – 18 Ways To Integrate Japandi Interior Design Style Into Your Home
Transitional furniture is also a mix of classic and contemporary design styles. The traditional furniture was known to be large with a lot of ornamentation. In the transitional design style, these pieces get a makeover. They are made sophisticated and streamlined to match the sleek status of the transitional style. These homes have classic shapes and silhouettes but smaller and with less ornamentation.
Furniture lines in this design style are simple, featuring rounded profiles or straight lines. The home décor in the transitional style also includes patterns and accent colors in accessories, wall treatments, and upholstery.
Living Room: If the house has traditional architectural features, then adding sofas and chairs with clean straight lines with fabrics that are neutral in color and warm can help create a transitional living room.
Kitchen: For homes that have traditional kitchen cabinets, you can use modern accessories and contemporary pendant lights. You can also add a lacquered kitchen island and steel countertop to blend the modern with the traditional.
Bedroom: If the bed has a tufted headboard which is a traditional element, you can upholster it with a steel-gray fabric that adds a modern twist to it. Alternatively, you can flank the headboard with modern side tables and a sleek metal lamp.
Dining Room: You can use a modern dining table and chairs and upholster them with traditional fabric. Or, you can use a traditional table and chairs and use modern lighting for the dining room design.
Read also – 30 Traditional Living Room Ideas
The focal point of a transitional living room is usually a contemporary chandelier or molecular light. If traditional lights are used, then they are steeped in tradition and heritage and are ornate with classic lines and materials that are timeless.
Transitional lighting is right in the center of the grandeur of the classic chandeliers and the sleekness of the modern light fixtures. They have functionality and form with unique shapes, amazing finishing, and longevity.
You can use white linen lamp shades with thin angular arms. You can also use a fixture with a bronze finish and a globe-shaped glass covering. Remember, transitional design is all about simplicity with clean lines. Use subtle geometric shapes and timeless materials like linen or chrome.