This post may contain affiliate links, which means I'll receive a commission if you purchase through my link, at no extra cost to you. Please read full disclosure
here
.
Every week we have been sharing the BSL team's favorite products. The new, the old, the test-runners, anything and everything we are loving is spilled to you guys. While we love doing this, we also thought it would be fun to have some themed weekly favorites for you guys to look at!
We decided to dedicate this week to our favorite hair products. The ride or dies that we have been loving for years and the new besties we don't know how we lived without. If there are any other themes you would like us to do for our weekly favorites let us know!! You can dm me @bysophialee on instagram
.
Can't wait for you guys to love these products with us!
Here are all BSL team favorite hair products.
THE BSL TEAM FAVORITES:
1. Hannah's Color Wow Spray
My hair is genuinely the weirdest texture and I like to blow it out every time I shower. I have tried a million products to try and tame my frizz and nothing compares to this spray. Chris Appleton (aka Kim Kardashian's hairstylist) made a TikTok showing how this spray literally makes your hair waterproof and I bought it immediately after. – Hannah
2. Charli's Heatless Curling Rod
I have been really trying not to use heat on my hair so I only really style and blow dry it 1-2 times a week. But, my hair is pretty wavy so if I sleep on wet hair it is a complete wreck in the morning. I saw this on TikTok and it seemed pretty gimick-y at first but I went ahead and gave it a shot and I'm SO glad I did! I use this before bed at night and wake up with the prettiest curls!- Charli
3. The Deep Conditioning Hair Mask Sarah loves
My hair has been super dry this winter so I've been loving this deep conditioning mask. I bought this after listening to a podcast of the founder of Briogeo who has a really cool story too! And it works super well

–Sarah
4. Julia's Sun Bum Hair Lightener
I usually get light blonde highlights done each summer because I love my hair super blonde with a good tan, but this year I didn't and decided to get this Sun Bum blonde hair lightener instead. My friend who's a dark brunette has used this and it literally made her hair basically dirty blonde. It also smells so nice and I can tell my hair is already blonder after just a few uses! – Julia
5. Sophia's Dry Shampoo & Leave-In Conditioner
The IGK dry shampoo is hands-down the best dry shampoo out there. I have tried all different brands and always go back to this. My It's a 10 leave-in conditioner is also my favorite. It smells SO GOOD! I use this after every shower and it will leave my hair smelling good the entire day. I spray it into my hand and then put it through my hair. I don't feel like spraying it in the hair works as well! – Sophie
6. Shelby's ride-or-die Olaplex Shampoo, Conditioner & No. 3 Hair Perfector
Olaplex is my bread and butter when it comes to taming and managing my curly hair. I absolutely LOVE Olaplex. It's not for everyone but if your hair loves it, your hair looovvveessss it. I use the shampoo, conditioner, & No. 3.– Shelby
This post was all about the BSL team favorites this week.
Other posts you'll love:
more ideas you'll love: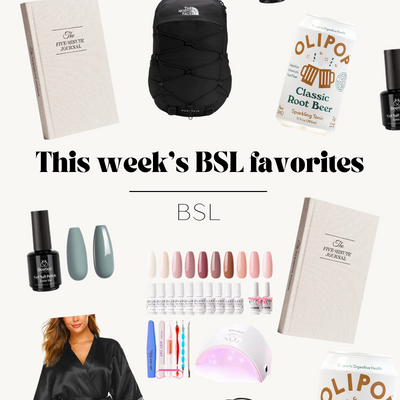 @media (min-width: 300px){[data-css="tve-u-1814f985996″] { padding-bottom: 0px !important; }:not(#tve) [data-css="tve-u-1814f985999″] { color: rgb(220, 196, 190) !important; –tcb-applied-color: rgb(220, 196, 190) !important; –tve-applied-color: rgb(220, 196, 190) !important; }[data-css="tve-u-1814f98599a"] { margin-top: 0px !important; padding: 0px !important; margin-bottom: 0px !important; }[data-css="tve-u-1814f98599b"] { padding: 0px !important; margin-top: 10px !important; }[data-css="tve-u-1814f98599c"] { margin-top: 19px !important; }[data-css="tve-u-1814f98599d"] { justify-content: center !important; }[data-css="tve-u-1814f98599e"] .tcb-button-link { box-shadow: none; padding-right: 22px; padding-left: 22px; –tve-applied-box-shadow:none; background-image: none !important; background-color: rgb(242, 226, 223) !important; –tve-applied-background-image:none !important; –tve-applied-background-color:rgb(242, 226, 223) !important; padding-top: 12px !important; padding-bottom: 12px !important; }:not(#tve) [data-css="tve-u-1814f98599e"]:hover .tcb-button-link { background-image: none !important; background-color: rgb(0, 0, 0) !important; }:not(#tve) [data-css="tve-u-1814f9859a0″] { color: rgb(0, 0, 0) !important; –tcb-applied-color:rgb(0, 0, 0) !important; –tve-applied-color:rgb(0, 0, 0) !important; font-size: 22px !important; }:not(#tve) [data-css="tve-u-1814f98599e"] .tcb-button-link { line-height: 1.2em; font-size: 24px; }[data-css="tve-u-1814f9859a1″] { –tcb-local-color-icon:rgb(255, 255, 255); –tcb-local-color-var:rgb(255, 255, 255); –tve-icon-size:18px; }:not(#tve) [data-css="tve-u-1814f98599e"] .tcb-button-link span { color: var(–tve-color, rgb(255, 255, 255)); –tve-applied-color:var$(–tve-color, var$(–tcb-color-3)); –tcb-applied-color:var$(–tcb-color-3); }[data-css="tve-u-1814f98599e"] { –tve-color:rgb(255, 255, 255); –tve-applied—tve-color:var$(–tcb-color-3); margin-bottom: 20px !important; margin-top: -10px !important; }:not(#tve) [data-css="tve-u-1814f98599e"]:hover [data-css="tve-u-1814f9859a0″] { color: rgb(255, 255, 255) !important; –tcb-applied-color:var$(–tcb-color-3) !important; –tve-applied-color:var$(–tcb-color-3) !important; }[data-css="tve-u-1814f9859a2″] { padding-top: 0px !important; padding-bottom: 0px !important; }[data-css="tve-u-1814f9859a3″] { max-width: 42.6989%; }[data-css="tve-u-1814f9859a4″] { max-width: 100%; }[data-css="tve-u-1814f9859a5″] { width: 900px; }[data-css="tve-u-1814f9859a9″] { width: 210px; –tve-alignment:center; float: none; margin-left: auto !important; margin-right: auto !important; }[data-css="tve-u-1814f9859aa"] { margin-left: 0px; }:not(#tve) [data-css="tve-u-1814f9859ab"] { line-height: 1.2em !important; font-size: 22px !important; }:not(#tve) [data-css="tve-u-1814f9859ad"] { line-height: 1.2em !important; font-size: 22px !important; }[data-css="tve-u-1814f9859ae"] { max-width: 57.2979%; }:not(#tve) [data-css="tve-u-1814f9859af"] { line-height: 1.2em !important; font-size: 22px !important; }:not(#tve) [data-css="tve-u-1814f9859b0″] { line-height: 1.2em !important; font-size: 22px !important; }[data-css="tve-u-1814f9859b1″] { max-width: 57.2993%; }[data-css="tve-u-1814f9859b2″] { margin-left: 0px; }[data-css="tve-u-1814f9859b4″] { margin-top: 19px !important; margin-left: 0px !important; }[data-css="tve-u-1814f9859b5″] { margin-left: 80px !important; }[data-css="tve-u-1814f9859b6″] { margin-top: 19px !important; margin-left: 0px !important; }[data-css="tve-u-1814f9859b7″] { margin-left: 80px !important; }[data-css="tve-u-1814f9859b8″] { margin-left: 80px !important; }[data-css="tve-u-1814f9859b9″] { width: 210px; –tve-alignment:center; float: none; margin-left: auto !important; margin-right: auto !important; }[data-css="tve-u-1814f9859ba"] { float: none; margin-left: auto !important; margin-right: auto !important; margin-top: 0px !important; }[data-css="tve-u-1814f9859bb"] { padding: 0px !important; margin-top: 0px !important; margin-bottom: 0px !important; margin-left: 80px !important; }[data-css="tve-u-1814f9859bc"] { float: none; margin-left: auto !important; margin-right: auto !important; margin-top: 0px !important; }[data-css="tve-u-1814f9859bd"] { width: 351px; –tve-alignment:center; float: none; margin: 0px auto 27px !important; padding: 1px !important; }[data-css="tve-u-1814f9859bd"] .tve_image_frame { height: 213.376px; }[data-css="tve-u-1814f9859be"] { margin-top: -8px; margin-left: 0px; width: 100% !important; max-width: none !important; }:not(#tve) [data-css="tve-u-1814f9859bf"] { font-size: 24px !important; }[data-css="tve-u-1814f9859c1″] { width: 100%; –tve-alignment:center; float: none; margin: 0px auto !important; padding-bottom: 0px !important; }[data-css="tve-u-1814f9859c1″] .tve_image_frame { height: 100%; }[data-css="tve-u-1814f9859c2″] { margin-left: 0px; margin-top: 0px; width: 100% !important; max-width: none !important; }[data-css="tve-u-1814f9859c3″] { padding: 0px !important; margin-top: 0px !important; }[data-css="tve-u-1814f9859c4″] { box-shadow: rgba(0, 0, 0, 0.15) 0px 3px 7px 0px; –tve-applied-box-shadow:0px 3px 7px 0px rgba(0, 0, 0, 0.15); margin-right: 20px !important; margin-left: 20px !important; }:not(#tve) [data-css="tve-u-1814f9859c5″] { letter-spacing: 0px; color: rgb(220, 196, 190) !important; –tcb-applied-color:rgb(220, 196, 190) !important; –tve-applied-color:rgb(220, 196, 190) !important; font-size: 20px !important; text-transform: none !important; }[data-css="tve-u-1814f9859c6″] { max-width: 50%; }:not(#tve) [data-css="tve-u-1814f9859c7″] { letter-spacing: 3px; color: rgb(255, 255, 255) !important; –tcb-applied-color:var$(–tcb-color-3) !important; –tve-applied-color:var$(–tcb-color-3) !important; font-size: 16px !important; line-height: 1.25em !important; }[data-css="tve-u-1814f9859c8″] { display: block; margin: 15px 65px !important; background-image: linear-gradient(rgba(207, 188, 184, 0.5), rgba(207, 188, 184, 0.5)) !important; –background-image:linear-gradient(rgba(207, 188, 184, 0.5), rgba(207, 188, 184, 0.5)) !important; –tve-applied-background-image:linear-gradient(rgba(207, 188, 184, 0.5), rgba(207, 188, 184, 0.5)) !important; background-size: auto !important; background-position: 50% 50% !important; background-attachment: scroll !important; background-repeat: no-repeat !important; –background-size:auto !important; –background-position:50% 50% !important; –background-attachment:scroll !important; –background-repeat:no-repeat !important; padding-top: 5px !important; padding-bottom: 2px !important; }[data-css="tve-u-1814f9859c9″] { margin-top: 10px !important; padding-left: 20px !important; padding-right: 20px !important; }[data-css="tve-u-1814f9859ca"] { width: 1050px; margin-top: 0px !important; margin-bottom: 0px !important; }[data-css="tve-u-1814f9859ca"] .tve_image_frame { height: 100%; }[data-css="tve-u-1814f9859cb"] { margin-top: -4px; margin-left: 0px; width: 100% !important; max-width: none !important; }[data-css="tve-u-1814f9859cc"] { padding: 0px !important; margin-top: 0px !important; }[data-css="tve-u-1814f9859cd"] { box-shadow: rgba(0, 0, 0, 0.15) 0px 3px 7px 0px; –tve-applied-box-shadow:0px 3px 7px 0px rgba(0, 0, 0, 0.15); margin-right: 20px !important; margin-left: 20px !important; }[data-css="tve-u-1814f9859ce"] { margin-top: 10px !important; padding-left: 20px !important; padding-right: 20px !important; }:not(#tve) [data-css="tve-u-1814f9859cf"] { letter-spacing: 3px; color: rgb(255, 255, 255) !important; –tcb-applied-color:var$(–tcb-color-3) !important; –tve-applied-color:var$(–tcb-color-3) !important; font-size: 16px !important; }[data-css="tve-u-1814f9859d0″] { margin: 15px 65px !important; padding-top: 5px !important; padding-bottom: 2px !important; background-image: linear-gradient(rgba(207, 188, 184, 0.5), rgba(207, 188, 184, 0.5)) !important; background-size: auto !important; background-position: 50% 50% !important; background-attachment: scroll !important; background-repeat: no-repeat !important; –background-image:linear-gradient(rgba(207, 188, 184, 0.5), rgba(207, 188, 184, 0.5)) !important; –background-size:auto !important; –background-position:50% 50% !important; –background-attachment:scroll !important; –background-repeat:no-repeat !important; –tve-applied-background-image:linear-gradient(rgba(207, 188, 184, 0.5), rgba(207, 188, 184, 0.5)) !important; }[data-css="tve-u-1814f9859d1″] { margin-top: -4px !important; }:not(#tve) [data-css="tve-u-1814f9859d3″] { font-size: 20px !important; }:not(#tve) [data-css="tve-u-1814f9859d4″] { font-size: 24px !important; color: rgb(220, 196, 190) !important; –tcb-applied-color:rgb(220, 196, 190) !important; –tve-applied-color:rgb(220, 196, 190) !important; }[data-css="tve-u-1814f9859d5″] { max-width: 57.2978%; }[data-css="tve-u-1814f9859d7″] { margin-left: 0px; }[data-css="tve-u-1814f9859d8″] { max-width: 100%; }[data-css="tve-u-1814f9859d9″] .tcb-button-link { box-shadow: none; padding-right: 22px; padding-left: 22px; –tve-applied-box-shadow:none; background-image: none !important; background-color: rgb(242, 226, 223) !important; –tve-applied-background-image:none !important; –tve-applied-background-color:rgb(242, 226, 223) !important; padding-top: 12px !important; padding-bottom: 12px !important; }:not(#tve) [data-css="tve-u-1814f9859d9″]:hover .tcb-button-link { background-image: none !important; background-color: rgb(0, 0, 0) !important; }:not(#tve) [data-css="tve-u-1814f9859d9″] .tcb-button-link { line-height: 1.2em; font-size: 24px; }:not(#tve) [data-css="tve-u-1814f9859d9″] .tcb-button-link span { color: var(–tve-color, rgb(255, 255, 255)); –tve-applied-color:var$(–tve-color, var$(–tcb-color-3)); –tcb-applied-color:var$(–tcb-color-3); }[data-css="tve-u-1814f9859d9″] { –tve-color:rgb(255, 255, 255); –tve-applied—tve-color:var$(–tcb-color-3); margin-bottom: 20px !important; margin-top: -10px !important; }[data-css="tve-u-1814f9859da"] { –tcb-local-color-icon:rgb(255, 255, 255); –tcb-local-color-var:rgb(255, 255, 255); –tve-icon-size:18px; }:not(#tve) [data-css="tve-u-1814f9859db"] { color: rgb(0, 0, 0) !important; –tcb-applied-color:rgb(0, 0, 0) !important; –tve-applied-color:rgb(0, 0, 0) !important; font-size: 22px !important; }:not(#tve) [data-css="tve-u-1814f9859d9″]:hover [data-css="tve-u-1814f9859db"] { color: rgb(255, 255, 255) !important; –tcb-applied-color:var$(–tcb-color-3) !important; –tve-applied-color:var$(–tcb-color-3) !important; }[data-css="tve-u-1814f9859dc"] { max-width: 50%; }[data-css="tve-u-1814f9859dd"] { margin-left: 0px !important; }[data-css="tve-u-1814f9859de"] { max-width: 50%; }[data-css="tve-u-1814f9859df"] { margin-left: 0px; margin-top: 0px; }[data-css="tve-u-1814f9859e0″] { margin-left: 0px; }[data-css="tve-u-1814fa04559″] { max-width: 42.6958%; }}@media (max-width: 767px){:not(#tve) [data-css="tve-u-1814f985999″] { line-height: 1.2em !important; font-size: 27px !important; }:not(#tve) [data-css="tve-u-1814f9859e2″] { line-height: 1.25em !important; font-size: 22px !important; }[data-css="tve-u-1814f9859a2″] { padding-top: 0px !important; padding-bottom: 0px !important; }[data-css="tve-u-1814f9859a9″] { width: 236px; }[data-css="tve-u-1814f9859b2″] { margin-top: -4px; margin-left: 0px; width: 100% !important; max-width: none !important; }[data-css="tve-u-1814f9859b5″] { margin-top: 0px !important; margin-bottom: 0px !important; margin-left: 0px !important; }[data-css="tve-u-1814f9859b7″] { margin-top: 0px !important; margin-bottom: 0px !important; margin-left: 0px !important; }[data-css="tve-u-1814f9859b8″] { margin-top: 0px !important; margin-bottom: 0px !important; margin-left: 0px !important; }[data-css="tve-u-1814f9859b9″] { width: 245px; }[data-css="tve-u-1814f9859b9″] .tve_image_frame { height: 100%; }[data-css="tve-u-1814f9859ba"] { margin-top: 0px !important; }[data-css="tve-u-1814f9859bb"] { margin-left: 0px !important; }[data-css="tve-u-1814f9859bc"] { margin-top: 0px !important; }[data-css="tve-u-1814f9859c6″] { max-width: 43.6249%; }[data-css="tve-u-1814f9859c4″] { margin-bottom: 0px !important; }[data-css="tve-u-1814f9859cc"] { margin-top: 25px !important; }[data-css="tve-u-1814f9859cd"] { box-shadow: none; –tve-applied-box-shadow:none; }[data-css="tve-u-1814f9859e3″] { box-shadow: rgba(0, 0, 0, 0.2) 0px 4px 10px 0px; –tve-applied-box-shadow:0px 4px 10px 0px rgba(0, 0, 0, 0.2); }[data-css="tve-u-1814f9859ce"] { padding-bottom: 25px !important; }[data-css="tve-u-1814f9859c9″] { padding-bottom: 25px !important; }[data-css="tve-u-1814f9859d7″] { margin-top: -1px; }[data-css="tve-u-1814f9859dd"] { margin-top: 0px !important; margin-bottom: 0px !important; margin-left: 0px !important; }}
It's finally June. When the sun is out everyone is nicer… that's a fact in my book. I feel SO much better and summertime is my favorite time. I've Continue Reading
Reader Interactions