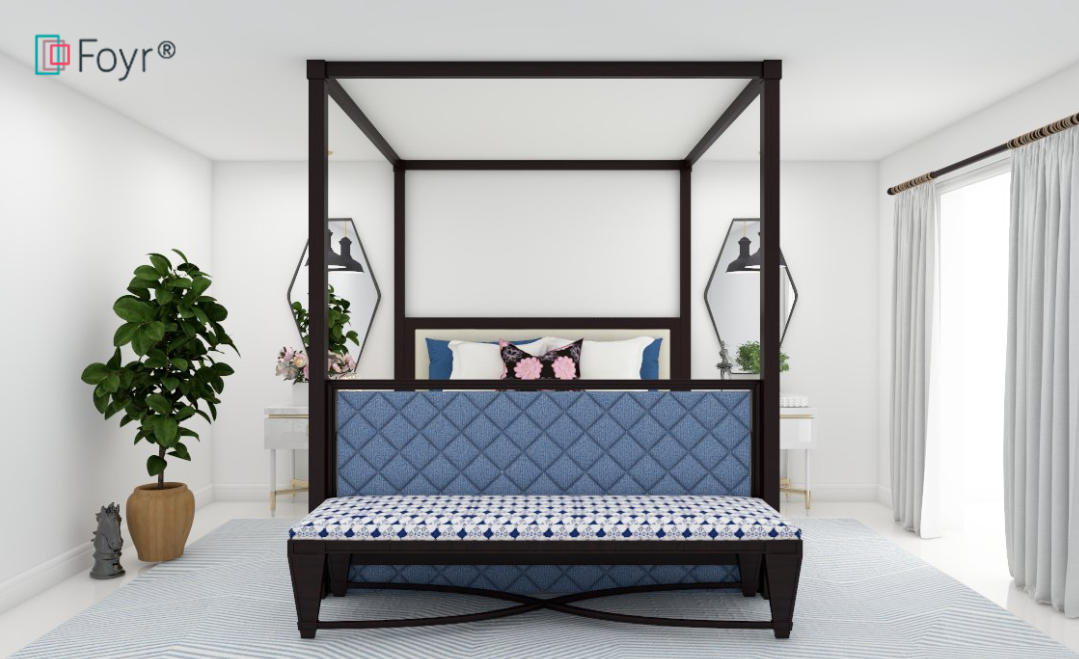 When it comes to the materials that you can use in the production of a headboard, the sky is the limit. Anything with visual appeal, character and style can go behind your bed. But if we narrow it down to the most used materials, you can find headboards made from the items listed below.
a) Wood Headboard
One can safely assume that wood is the most used material for manufacturing a headboard. You can use virtually any kind of wood to make your bed, and subsequently, your bedroom looks great.
b) Painted Wood Headboard
It isn't easy to find a ready-made headboard that has been painted over. You can quickly add a nice coat of paint using oil paint with a glossy or satin finish to give your bed and headboard a brand new look. But the main idea of painted wood is to paint it yourself when you grow weary of the Headboard's current look.
c) Stained Wood Headboard
If you are a connoisseur and love the essence of wood grains and their characteristics, this is the way for you. You can bring out the grains of the wood by coating the wooden Headboard with some lacquer or varnish and protecting it from any abrasions.
d) Rattan & Wicker Headboard
Rattan or wicker is a type of fibre garnered from a palm tree. This material is mainly used in the bedroom that wants to achieve a tropical look. Its malleability and tensile strength can make it easy to be woven into any shape. They are generally incorporated into wooden frames to complement the backdrop of the bed and the room as a whole.
e) Wrought Iron Headboard
The most traditional material happens to be wrought iron. It has been used for centuries and looks attractive if done right. A petite minimal pattern against a white wall can create a lasting visual effect in the bedroom.
f) Brass Headboard
Brass is another metal you can use if you don't like the Victorian era wrought iron look. It can help you get a more sophisticated and chic touch to your headboard. The best part of brass is that the older it gets, the more it compliments your decor ideas.
g) Fabric Headboard
The first choice of any Scandinavian or boho design would be a linen tufted headboard. The weave and colour of linen can assist in the headboard looking minimalist, muted and very classy at the same time.
h) Leather Headboard
Leather is one of the most long-lasting materials used on an upholstered headboard. It is also easy to clean and maintain but would attract a lot of heat if you live in a warm area. Moreover, with the rise in cases against sourcing leather, most companies go for faux leather.
Read also – How To Choose The Best Materials and Finishes for Interior Design?