First, let us get this out of the way. There is no cardinal rule as to how one should create a mood board. Everyone has their own process, and none is wrong until it gets the job done. However, everyone could use some structure sometimes – especially beginners.
If your current mood boarding method is not working for you, or you have never made an interior design mood board before – use our easy 3-step outline.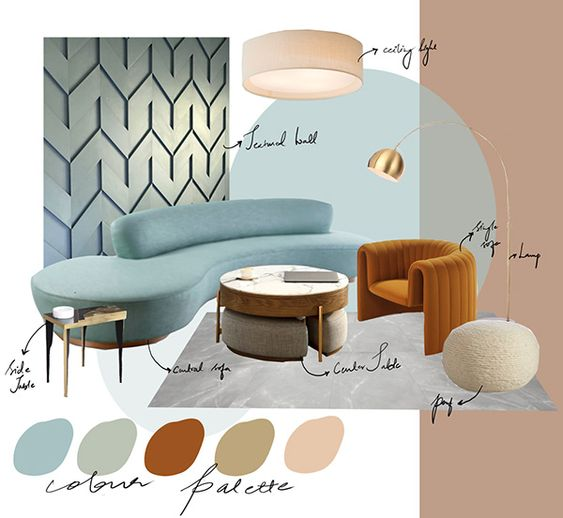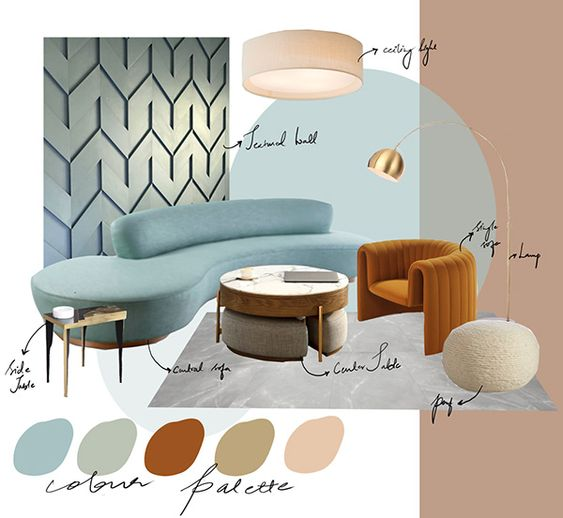 Image Credit: pinterest.com
Step 1: Bring In What Is Not Going Out
Every project may have an element or two that have personality and are just, well, not going anywhere. Whether it is a window, beams, or even flooring that your client does not want to get rid of, you should add them to your mood board first.
Getting the non-negotiable components in early helps you keep them in mind while designing the room. This way, the permanents don't stick out like a sore thumb once you are all done.
Step 2: Look for Pictures
Browse through the places you find your inspiration- Pinterest, Behance, Dribble, or social media. Your favorite e-commerce platforms make for good spots to find pictures too. Download all that fits your vision.
You are not necessarily looking for fully-done rooms to add to your mood board. Here are some elements you can look for:
Paint swatches

Floors

Rugs

Furniture (chairs, tables, sofas)

Lighting

Furnishings (sheets, throw pillows, throw blankets)

Art (paintings, frames, sculptures)

Decor (baskets, trinkets, plants)
Step 3: Arrange & Experiment
Now that you have your ammunition, you can start putting it on your canvas. Some mood board apps allow you to drag and drop your images and remove backgrounds. Leverage the features of your interior design mood board maker to the fullest.
Remember to mix and match and try out different options and combinations so you can test out what will work best.
Read also – 20 Best Floor Plan Apps To Create Your Floor Plans